One of the best things our client's love is we take care of them from start to finish.
How we go above and beyond to please you:
Truck mounted steam cleaning is the primary process we use.  We use it because all the major carpet manufacturers recommend it.  In fact, Shaw Industries, the world's largest carpet maker, recommends only truck mounted steam cleaning.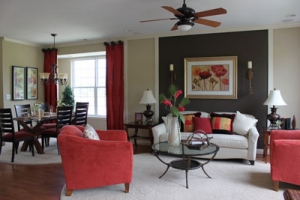 But you'll get much more than the bare minimum.  Of course we'll use truck mounted steam cleaning.  But we'll also make sure your carpet dries FAST.  We've found you get a MUCH better cleaning when the carpet is dried quicker.
You'll get extra drying steps while we're cleaning.  This removes as much moisture as possible.  And when we're finished, we'll bring in turbo air movers to speed the drying along faster.
This process greatly reduces the possibilities of spots returning.  You'll be MUCH happier with the overall appearance of the job.  Plus, you'll be able to walk on your carpet shortly after we finish.
We'll even leave bootie shoe covers behind.  This will insure no soil gets tracked on your freshly cleaned carpet.
When we clean your tile, we take extra steps in cleaning all the corners and crevices.  If your grout needs recoloring, we'll offer to do a small test area.  You'll be able to see how beautiful your floors can be.
DRY-N-CLEAN really wants to help you make your home beautiful.