There are many ways to clean a dirty floor. One way is to get on your hands and knees and do the legwork yourself. For the most part, this is an effective way of cleaning your floor. Heck, it's the way it's been done for thousands of years. But why get yourself dirty and sweaty in the process of tile cleaning? When you call DryNClean, you can feel safe knowing that the most up-to-date methods and technologies are being implemented. We're so confidant in our methods that we can guarantee that it will be a long while before your floor will need any additional cleaning.
One risk you take when you call any other tile cleaning company Williamsburg, Va is that the chemicals used in tile cleaning may be harmful to you and your family's health. Many methods are available that circumvent the volatile nature of these chemicals. Some of these include diluting the solution to make it more family-friendly, and another is simply to purchase the chemicals from responsible, consumer-friendly companies.
We've found in our 25 years of business that the main reason people still do tile cleaning Williamsburg, Va themselves is that they can't stand to wait around for the darn technician to show up! With many cleaning companies, it can be hours before help arrives. Not at DryNClean. We take precautions to make sure our technicians are always prompt, friendly, and deliver the best service that they humanly can each time they are dispatched.
Another huge disadvantage of tile cleaning using the old-fashioned method (your elbows!) is that there is no way to verify if the tile has been fully cleaned, because dirt molecules are invisible to the naked eye (but unfortunately not the nose!) and easily become trapped inside the porous material. So cast that mop and bucket of soapy water aside in favor of newer, more highly-researched cleaning methods that are safe…and that save you the trouble of getting on your hands and knees! Our fleet of high-tech, heavy-duty machinery gets the tile cleaning job done more quickly than you ever could using traditional techniques.
The Machinery Itself
Floor Buffer– Can be used alone or in combination with household cleaners. Floor buffers are those awkward-looking upright machines operated using both hands (and quite a bit of arm strength). The basic engineering involves high-friction interaction between the dirty, soiled tile and wire brushes and/or padding. The friction will do most of the tile cleaning work, loosening up the debris which is later swept up with a mop and bucket. The chemical agents used in conjunction with the main cleaning process deals with the microbial particles that the buffer cannot reach.
Jet Cleaners– Compared to buffers, jet cleaners involve rocket science! Much more complicated, these machines use high-pressure, super-heated water to do the job of the tough tile cleaning. Not only is the heat working into the dirt and grime, but the high velocity of the water being shot through the jets is also doing its part. Furthermore, torque is injected into the cleaning process through the spinning heads of the hoses, effecting the cleaning process much like the turning motion of a hand.
Steam Cleaners– Steam cleaners operate much like jet cleaners, in that they both involve super-heated water to do the trick. However, steam cleaners use, well steam, instead of high-powered jets. The decision to use a steam cleaner is an expensive one, but well worth it. The main difference between a jet cleaner and a steam cleaner is that the steam cleaner method allows the water to sit and "settle" into the porous material tile.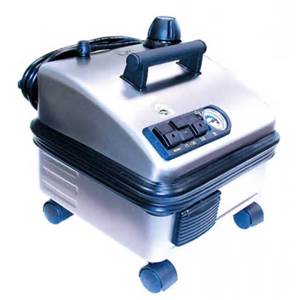 Rotary Tools– These include a variety of highly mobile, smaller devices that find themselves most at home, no pun intended, when used to clean around sharp corners in the bathroom or living area, depending on the situation. Much of this information is overly technical and quite difficult to understand. Just give us a call at 757-495-3626, day or night, weekday or weekend, for advice on how to best clean your own tile or on which machine and its accompanying procedure would be best for your home project's specific specifications.
DryNClean is a family-owned carpet care business that has been in business for over 25 years. We have a reputation for punctuality, hard work, friendliness and fair prices. Call us now at (757)495-3626 and we will be happy to help you keep your carpets looking clean, attractive and smelling springtime-fresh! Our services areas include Virginia Beach, Chesapeake, Norfolk, Suffolk, Newport News, Hampton, up into Williamsburg, and down to Elizabeth City and other part of North Carolina.